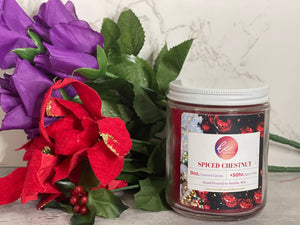 Our Spiced Chestnut is Roasted nutty top notes which trickle down a sweet vanilla heart over a base of decadent woods.
Smells Like: Orange, clove, Nutmeg, Nutty nuance, Caramelized sugar, Vanilla bean, Herbal oakmoss, cedarwood, sandalwood.
Burn Time:
9oz. - 50+ Hours
Our Candles are hand poured into a Smooth Straight sided jar with a White Twist Top. The type of wax used in our candles is 100% Paraffin Wax. All of our candles are scented with Clean Scents which are free from carcinogens, reproductive toxins, and other potentially hazardous chemicals often found in fragrance. This type of Fragrance is safer for the home and for you.